Search Professional Portal
ASK is a safe place for everyone
The ASK Professional Portal has been built for you.
As a professional, you need access to the latest evidence-based practices and resources.
You need to be able to navigate the complex system of services that provide support to children, young people, and families.
You need to know which services need a professional referral and how to best connect with those providers.
Families needing crisis support
In an emergency, phone 000 (triple zero)
ASK has gathered a range of practical support information and services for families on the Looking for practical support for you and your family community topic page.
Topics
These pages compliment the resources and services from the Seeking help pages and are designed to grow and change over time.
Children, young people, and families face a range of issues, and challenges. Each person is unique and cannot be defined by just one characteristic. ASK recognises this intersectionality and uses the below broad categories to help you collate this information, rather than as a way of describing individual children, young people, and families.
Our System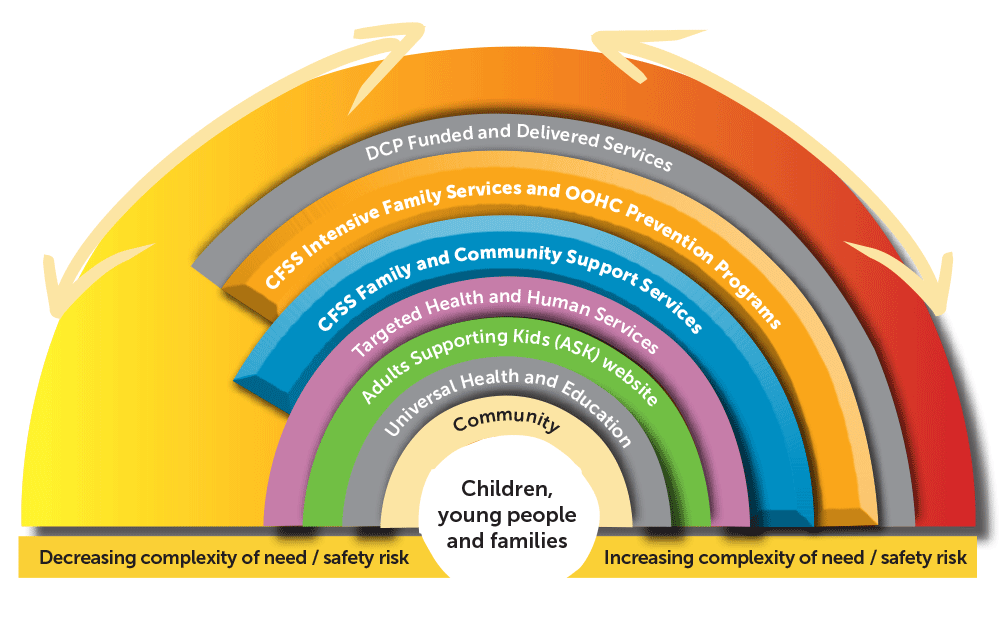 Plain text description of the diagram: Our System
Our system includes government and non-government organisations just like yours, who provide services to children, young people, and families. Our support ranges from community capacity building through to intensive case management.
We support children, young people, and families to manage complexities, identify and reduce their risk factors and build on their protective factors.
We are social workers, psychologists, case managers, educators, health professionals, and more.
Feedback and suggestions
What are the Child and Family Safety Networks?
Child and Family Safety Networks (CFSNs) are multi-agency networks currently operating across multiple locations in South Australia. They play a critical role in the delivery of the Child and Family Support System (CFSS).
Child and Family Safety Networks are made up of key agency partners from:
government
non-government organisations (NGOs)
Aboriginal community controlled organisations (ACCOs).
They work collaboratively as a mechanism to support partnership and multi-agency responses for the most at-risk children and families in South Australia.
The CFSNs are operationalised as a shared approach to managing risk and ensuring that children's rights and safety are a sector-wide responsibility.
As we work with the most vulnerable children and families in our communities, we emphasise:
assertive engagement
family-led decision making, and
the right to self-determination.
Our work improves the social, health, and wellbeing outcomes for infants, children, young people, and their families in South Australia.
Where are the Child and Family Safety Networks meetings held?
CFSNs meetings will be held at least every 2 weeks (face-to-face or via video) across city and country locations:
Adelaide metropolitan area (northern, southern and western)
Ceduna
Gawler
Mount Barker
Mount Gambier
Murray Bridge
Port Augusta
Port Lincoln
Port Pirie
Riverland
Whyalla.
How do I make a referral to Child and Family Safety Networks?
Meetings will be chaired by a nominated CFSN agency partner
Referrals are accepted through the CFSS Pathways Service.